WhatsApp is not only a messenger app for communications with family and friends. Companies gradually turn to WhatsApp and communicate on their preferred channels with their clients.
With more than 2 billion users in 180 countries, this is certainly one of the most common messaging applications. You must be where the clients are as a mandate. With these figures in mind and Millennials' the liquid aspirations, companies across sectors need to harness and deploy WhatsApp solutions to boost customer experience.
Firstly, WhatsApp is considered the greatest message application in the world, and has a very large user base.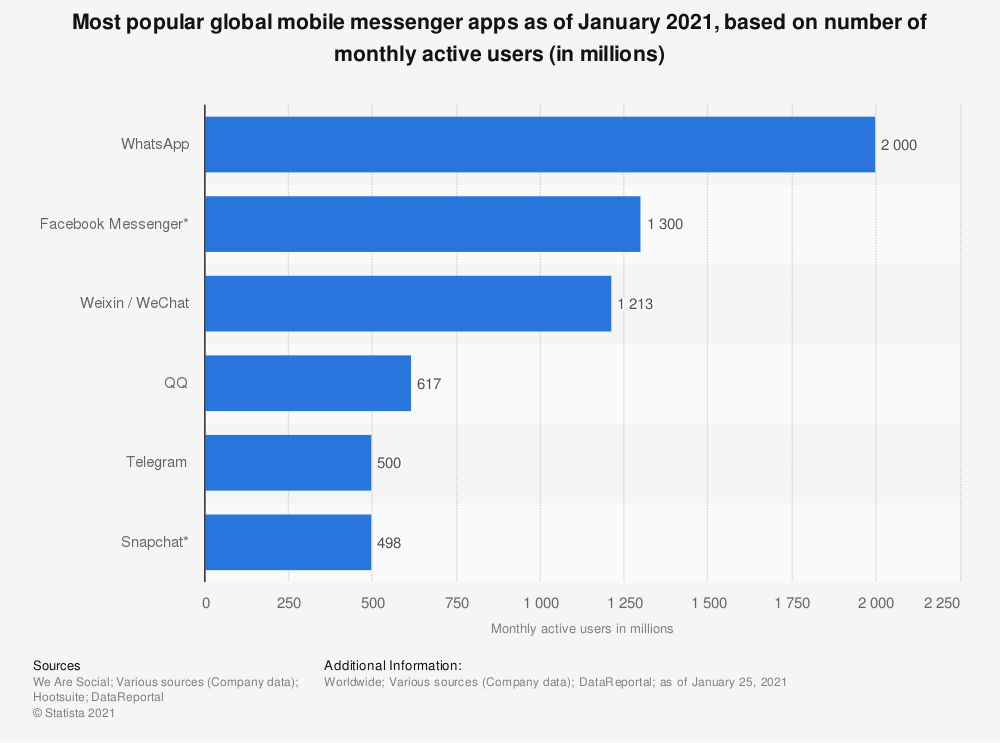 The WhatsApp business API enables SME and big companies worldwide to contact their clients. Although accessing the API was formerly difficult, many suppliers of solutions now make it convenient for company and budget. Let's take a look what the WhatsApp API is and its functionality.
What is WhatsApp Business
WhatsApp business has been created with the need to the small business owner as a free download app on Android and iPhone. The app makes it easier to contact your customers directly, highlight your goods and services and answer questions during your shopping journey. Create a list with your goods and services and use specific methods for automating, sorting and responding quickly to messages. The core drawback is that the WhatsApp Business App was developed to handle person to person talks. Company have to reply on the cell phone where the app is installed. Therefore, it is not flexible to use the app on a wider service support.
In August 2018, the WhatsApp business API have been launched to provide companies with a stable, flexible solution adapted to their needs. It enables companies using WhatsApp messages to communicate with larger group of customers using this application programming interface.
It is important to choose a right partner to bind to the API, since the WhatApp support has functionality. We will look at how integration happens and what you need to be careful of in this post. Regarding to the connectivity to customers, many major firms, such as KLM and Toyota, are using WhatsApp Business API right now.
Promotional messages and broadcasting
The WhatsApp Business Broadcast function enables companies to simultaneously transmit bulk messages to a specific community of users. However, to deliver broadcasts to the WhatsApp you have to select for a particular group or for a wider user base which WhatsApp Business API can provide.
You would need to build a broadcast list to deliver a broadcast message on WhatsApp. Broadcasting lists however are restricted to 256 contacts. It is because WhatsApp aims to protect people from spamming. They made it so that only contacts you saved in your WhatsApp contacts list will hit whether you submit a broadcast on WhatsApp.
The large numbers of messages are been handled by SMEs and large companies every day. Therefore, they'll need a messaging platform like WhatsApp business API to send and receive messages with larger group. In order to shield contacts from getting spam and ensure WhatsApp remains a leading customer service network. Companies can only deliver template messages in 24 hours after a last message with customers.
Template Messages
Template messages allow you to simplify large portions of your service process by sending pre-defined messages, such as purchase confirmations, call reminders or shipment alerts in large quantities.
This messaging types are text strings and enable automatic personalization settings (e.g. customer name or ID). A range of pre-approved template messages for typical service scenarios are provided by WhatsApp. You can even make your own template message. WhatsApp also charges a small fee on any template messages that have been sent after 24 hours. We will return to more details when we cover the WhatsApp API costs below.
Data privacy and WhatsApp end-to-end encryption
Data protection is a vital part for handling consumer contact and it is a necessity when a new platform is introduced.
WhatsApp enforced end-to-end encryption on its platform in 2016. The data safe configuration of the WhatsApp Business API allows businesses to communicate with WhatsApp customers in the encryption process. The server is only used to transmit the encrypted message. Messages are secured end-to-end and cannot be accessed through WhatsApp or other third-party vendors, rendering it more safe than traditional emails.
How much does the WhatsApp Business API cost?
In contrast to the free WhatsApp Business App, the Business API is a more sophisticated, paid-in solution. However, prices are significantly different by supplier so you can compare different solution providers first. There are the various costs that you may expect:
Setup fee

Maintenance fee

Messaging fee
Customer sending messages are always free, and the replies you deliver back to them are free during the 24-hour service window. Over this 24-hour duration, but only with a given template message, you can still reply to requests. WhatsApp charges a small fee for approved template message received outside the service window.
You can also broadcast messages initiated by your business. The template messages approved by WhatsApp can be sent. This message can be customized and extended by current functionality of WhatsApp.
How to get access to the WhatsApp Business API
Choose a trustworthy service provider.
You can apply for access to the WhatsApp Business API through business solution providers (BSP). Please note that some agencies do not come with the customer chat interface to enter the API but instead give you access to the WhatsApp API only.
EMMA provides convenient access to the WhatsApp Business API for your business. You will find the right approach for WhatsApp support, so that you can begin in anytime, we will help you with the whole technological integration.
Create your WhatsApp Business Account.
After you decided for a solution provider, you will receive a "messaging on behalf of" request and you just approve it and verify your business within Facebook Business Manager.
Promote your WhatsApp Business Account
In contrast to Facebook or Telegram, people can't look for your brand in the WhatsApp.  And unlike the chat on the website, the customer journey is also not organic either. Therefore, if you would like to draw more customers respond to WhatsApp Business. Its strongly depends on how well you promote your WhatsApp channel to your customers.
The fastest way to launch your WhatsApp Business API
EMMA takes over the technical implementation and make sure it's always up to date – so you can focus on talking to your customers on WhatsApp.
EMMA is built for digital customer communication and offers the features you need for efficient WhatsApp support. Get your whole service team on board and engage in unlimited customer interactions. Reach out to us if you're interested. We're looking forward to hearing from you and getting you started with the WhatsApp Business API!